VINVIN makes a difference
Your Benefits
At VINVIN, customer experience is key. We seek to continuously innovate our approach, providing personalized, original and exclusive services that make us stand out from the crowd.
Passion, dedication and expertise are what make us the perfect partner for any wine venture. Our team boasts over 30 harvests of experience in buying, portfolio management, marketing, brand building and sales in the world of wine.
Our team of wine experts personally select the best wines around the globe with the utmost care. Our mission: A high-end collection and an exclusive members platform, so our customers can just sit back and enjoy the finest wines our world has to offer.
Wine is a personal journey - there's no right or wrong. However, finding the wine that matches your palette and preferred flavor profile isn't always easy. That's why we can connect you to a wine expert from our team to provide you with superior service and personal advice.
Both authorities on wine, Corinne & Marcel – boasting over 30 harvest years of experience in buying and purchasing, portfolio management, marketing, brand building and sales in the world of wine – have teamed up with Frank, an entrepreneur par excellence, who relies on an equal number of vintages in networking, business development, strategic partnerships and successful ownerships.
It is with passion, dedication and expertise that we have compiled our superb portfolio of exquisite wines from wineries all over the world. Our team of expert VINvestors and VINadvocates have made it their mission to change the game, and offer you the ultimate customer experience.
Members are treated to access to exclusive wine events in elegant locations: A vineyard in the countryside, a private villa in the heart of the Champagne region, an exquisite art gallery opening, or for a perfect wine & food pairing experience.
Become a VINVIN customer by completing your details in the form and clicking 'Register'. You will receive a personal login to our premium boutique.
"Considering we're game changers, we're never satisfied with the ordinary: We want to create, improve and innovate the world of wine — from the vineyard to your glass."
VINVIN Exclusive Membership
Join the club and profit from exclusive membership incentives. Besides access to our comprehensive portfolio of over 300 refined wines, and invitations to our most prestigious wine events, you will be able to pre-register for highly-rated allocation wines with limited supply. And, as a wine journey is never complete, your will be connected to your own personal wine consultant.
Be the first to have access to our

allocation wines
Very exclusive wines with limited availability
On all our wines from our portfolio (with exception of our Favorite Boxes)
Annual free

Favorite box worth of €250,00
With a special selection of our favorite wines
Annual

"Exclusive Members event"
Meet our winemakers, exclusive wines to taste, culinary event
Personal delivery within 12 hours*
Possibility to participate in

our wine journeys
Organized at 2 different times of the year. Consisting only of Exclusive Members
Your own

personal wine advisor
Available per phone, Whatsapp or Email
VINVIN Wines haves

an exclusive cooperation

with an

professional wine valuer
Advice on value development of allocation wines in which you would like to invest or valuation of your wine cellar
More reasons
to become a member
Platinum Business Card VINVIN Wines
If you do not have a wine cellar, we offer you the possibility to store your wines in a special / conditioned storage
Vertical wine tastings (various vintages of unique wines from the cellars of our wineries)
Access to an exclusive portfolio of 300 wines and a special selection of wines that can only be ordered by Exclusive Members
If you are travelling with your family or with a wine club, for example, we can coordinate visits to the wineries which we have in our portfolio. We will provide you with the best restaurant and hotel tips where possible
Conditions to become an Exclusive Member
Annual fee of €495 incl VAT
Minimum spend of €10.000 incl. VAT per year (combination of private and business purchases is possible)
Max 25 Exclusive Members in 2021
Wine Houses
&

Collections
VINVIN offers a carefully selected portfolio of both high-quality wines from wineries and the most exclusive wines from the makers. We love to explore wine regions that are off the beaten track, and share our over 300 exceptional wines with you. Click on a logo below to quick-scan our winemakers, or click on the link to redirect to our web shop.
In 1958, the Sumeire family acquired this large estate near Pierrefeu in the Var region. This property, surrounded by the Maures hills, has two names inherited from its long past: Château la Tour de l'Evêque and Château la Tour Sainte Anne. In 1985, they created Pétale de Rose, a pale rosé wine created by pressing entire red grenache grapes using a champanese press. The result: a unique pale wine with a deeper length in the mouth.
| | |
| --- | --- |
| Location | France, Pierrefeu-du-Var |
| Vineyards | 78 hm2 |
| Avarage age | 20 years |
Each of the Marc Hebrart cuvées contrasts elegant fruit expression with the mineral signature of great terroirs of Mareuil-sur-Aÿ, tapped by the deep roots of old vines. Father Marc Hébrart has been making his own champagnes since 1964, and his son Jean-Paul joined him at the age of 19 in 1983, taking over in 1997.
| | |
| --- | --- |
| Location | France, Mareuil-sur-Aÿ |
| Vineyards | 15 hm2 |
| Avarage age | 28 years |
Fattoria dei Barbi is one of only five estates in Montalcino that have continuously operated for over 100 years. The Colombini family founded the prestigious estate in 1790. Today, it is owned and managed by the 20th generation heir, Stefano Cinelli Colombini. The family helped build the reputation of Brunello di Montalcino as a wine of great quality and prestige worldwide. Moreover, Fattoria dei Barbi is among the original producers of Brunello with bottles dating back to the 1892 vintage in its cellar.
| | |
| --- | --- |
| Location | Italy, Montalcino |
| Vineyards | 451 hm2 |
| Historic producer in Brunello & first exporters of Brunello in 1817 | |
The Högl estate is situated at the Western edge of the famous Austrian Wachau region, where the steep Spitzer Graben opens out into the Waldviertel, marked by extreme geological and climatic conditions. Högl is a family winery, with three generations living and working on the estate. Over the course of 60 years they did not only expand, their grape varieties and vinification methods also changed. Today, they vinify Riesling and Veltliner, complemented by Gelber Muskateller, Chardonnay and Sauvignon Blanc.
| | |
| --- | --- |
| Location | Austria, Spitzer Graben |
| Vineyards | 9 hm2 |
| Important values: Authenticity, sustainability and typicity | |
Xavier Monnot is among one of the most esteemed names in the Côte de Beaune with vineyard plots stretching from Beaune to Maranges and family winegrowing dating back six generations. Xavier took over in 1994 after completing oenological studies. Each vineyard is rooted in different soils and has different aspects and small climatic variations, so Xavier is meticulous about treating each plot personally and manually. Their vinified wines are white (Chardonnay, about 60 percent) and red (Pinot Noir).
| | |
| --- | --- |
| Location | France, Côte de Beaune |
| Vineyards | 17 hm2 |
| Mass selection by old vines' new clones | |
Ancestors of the Laroche family owned vines in Chablis as long ago as 1695. Today, with Michel Laroche as patriarch, they are among the most respected winemakers in France. In 2010, he sold the family's stake in Domaine Laroche in order to establish a new, smaller, quality-oriented domaine: Domaine d'Henri, named after his father. Of particular note are the 80-year-old vines in the Premier Cru Fourchaume vineyard, which produce the fruit for their Héritage cuvée.
| | |
| --- | --- |
| Location | France, Chablis |
| Vineyards | 22 hm2 |
| Avarage age | Mainly 1er Cru Fourchaumes, including Vieilles Vignes; min. 75 years old |
Domaine Virgile Lignier-Michelot has been part of the Morey-Saint-Denis landscape since the early 20th century. Virgile Lignier, who joined his father Maurice at the domaine in 1992, is the fourth generation to run the family property. This was also the first year that the estate started bottling their wines and selling them directly. Virgile is meticulous in the vineyards and seeks to be as natural as possible when confronting viticultural challenges. The style of the wines is dramatic and opulent, with sappy cores of fruit, excellent expressions of terroir, and the balance and structure to allow graceful aging in the cellar.
| | |
| --- | --- |
| Location | France, Morey-Saint-Denis |
| Vineyards | 5.33 hm2 |
| Philosophy | Farmed organically and follows the lunar calendar |
The house of Pascal Jolivet was founded in 1987 and is one of the most dynamic domains in France's Loire Valley. Based in Sancerre, the domain now owns over 120 acres of prime vineyards spread across the appellations of Sancerre and Pouilly-Fumé. Jolivet is a firm believer in natural winemaking and practices environmentally friendly techniques in both the vineyard and the cellar. The result: delicious, natural yeast-fermented wines.
| | |
| --- | --- |
| Location | France, Loire |
| Vineyards | 120 hm2 |
| The icon in style, precision and purity of Sancerre. | |
Family run since 1937, the winery has become internationally renowned —a hallmark for the top wines of Bordeaux. Today, it is also the owner and producer of several prestigious crus, including Château La Fleur-Pétrus, Château Trotanoy, and Château Hosanna in Pomerol; Château Bélair-Monange Premier Grand Cru Classé in Saint-Émilion; and, in Napa Valley, California, Dominus Estate and Ulysses.
| | |
| --- | --- |
| Location | France, Bordeaux |
| Vineyards | Négociants & propriétaires in Bordeaux and California since 1937. |
| Internationally renowned | |
Valdecuevas is located in the so-called "Golden Triangle" of Rueda appellation. The indigenous grape "Verdejo" is treated with special and particular care, so as the maximum expression of this variety is manifested in their wines. The Martin family has been working in the agrofood sector for over 70 years. Thanks to the perfect combination of new technologies and the traditional know-how of the locals, Valdecuevas wines take the Rueda appellation to a higher level.
| | |
| --- | --- |
| Location | Spain, Valladolid |
| Vineyards | 125 hm2 |
| Family estate in the golden triangle of the Rueda appellation | |
Since 1870, a period spanning five generations, the Eguren family has been dedicated to the cultivation of vines and the production and ageing of the best wines of La Rioja. Among their most iconic labels are Amancio, El Bosque and Sierra Cantabria Colección Privada, along with Organza white and Sierra Cantabria Cuvée red. Their philosophy: in order to create internationally famous wines, you need personal effort, knowledge and passion as well of the earth and the complicity of the weather.
| | |
| --- | --- |
| Location | Spain, la Rioja |
| Vineyards | 125 hm2 |
| Owner of te world famous Rioja La Nieta | |
Founded in 1919 by François Bouby, BOUBY champagne has been a family story for four generations. By using sustainable winegrowing methods, based on the rhythm of the seasons and with respect for the soil, they produce wines that combine elegance and intensity —an expression of the local terroir. The grapes (up to 55% of Chardonnay) are pressed to collect only the first juice, the so-called "Cuvée", which is the most acidic and sugary. After a minimum of six months, you get a wine that is highly aromatic, flavoursome and classy.
| | |
| --- | --- |
| Location | France, Verneuil |
| Family domaine of 4 generations | |
| Sustainable winegrowing | |
Alvaro Palacios, whose family owns the prestigious Rioja Bodega, spent 2 years at Château Petrus before setting up on his own in Priorat in 1989. He produces world-class wines by using fruit from extremely low-yielding old vines and applying very modern winemaking techniques. The cream of the crop: the single vineyard wine L'Ermita —80% Garnacha, 15% Cabernet Sauvignon and 5% Cariñena — is aged in new French barriques for up to 20 months. It has intense concentration, enormous depth and a simply staggering complexity. Today, Palacios is one of Spain's most important and influential wine producers.
| | |
| --- | --- |
| Location | Spain, la Rioja |
| Vineyards | 125 hm2 |
| Owner of te world famous Rioja La Nieta | |
Ghizzano is a history-rich hamlet in Tuscany, nested deep into the rolling hills between the city of Pisa and the medieval town of San Gimignano. De Venerosi Pesciolini family estate was founded here in the 14th century and has since then been the heart of the village. Today, the estate is owned and run by Ginevra Venerosi Pesciolini. Their wines are made respecting nature; that's why each vineyard is tended by hand. The philosophy? Make the wines as terroir driven as possible, taking no shortcuts. For this reason, the estate is certified organic since 2006.
| | |
| --- | --- |
| Location | Italy, Ghizzano |
| Vineyards | 280 hm2 |
| Since 2006 certified organic and biodynamic principles | |
Podere San Cristoforo is a small estate in Maremma, a wild land lying between the Tyrrhenian sea and the gentle coastal hills of Tuscany, an upcoming area with some of the best wines in Italy. They follow the biodynamic approach and believe in low yields, little use of technology and a great deal of manual labor. They focus mainly on the soil, remaining sensitive to its characteristics and its symbiotic relationship with the vines, although they find that all the elements that characterize the terroir are important. They are fine wine artisans producing just a few bottles that reflect their special natural environment.
| | |
| --- | --- |
| Location | Italy, Maremma |
| Vineyards | 45 hm2 |
| Owned by famous winemaker Lorenzo Zonin | |
Hugel is a name synonymous with Alsace. Founded in 1639 in Riquewihr by Hans Ulrich Hugel, the family estate, whose initials are still on the family crest, is today known as one of the most important family businesses in the wine world. The Hugel family's vineyards cover more than 30 hectares in Riquewihr, almost half of which are located in the Grand Cru area. The Hugel family stands for passion, quality and consistency; values that have made the authentic winery famous all over the world with its famous bottles bearing the striking yellow label. The Hugel are often referred to as the ambassadors of Alsace wine.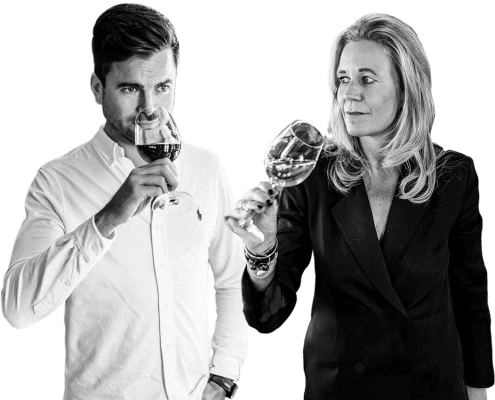 We love wine and we love sharing knowledge about wine. So, should you need help or unbiased counsel, tailored to your personal tastes and requirements, don't hesitate to contact our wine expert.